Graduation project 2020/2021
Master of Arts in Information Design Design Academy Eindhoven

On the left, final installation, 2021.
Photo by Iris Rijskamp.


Full Voids investigates how representations of the urban landscape influence the way we co-habit it.
The project consisted of a series of representations of a neighbourhood in Eindhoven, aimed to stimulate reflections and unconventional interactions among people and between people and spaces.
---


How can I — as an information designer, facilitate processes of community making, under the premise of ecology and respect?



---
HYPOTHESIS
Depending on how we represent an ecosystem, it is possible to trigger, within that same ecosystem, unconventional interactions among people and between people and spaces.

Given that a shift towards sustainability in the way we live together is needed, the most enduring changes are the ones that start from inside, from local realities and their empowerment.

SCALE
The neighbourhood object of the representation

AGENTS
To create an unconventional neighbourhood representation I decided to focus on aspects of the urban landscape that are normally incorporated in an anonymous background that is supposed to be ingnored: the urban void.



Spaces in-between, generally overlooked, undefined, where non-humans can eventually take over. Often regarded as exceptions in the use of the communal space, in these representations they become starting points to imagine alternative ways of dwelling in the city together, humans and non-humans; spaces for explorations in ecological awareness and respect.
REPRESENTATION 1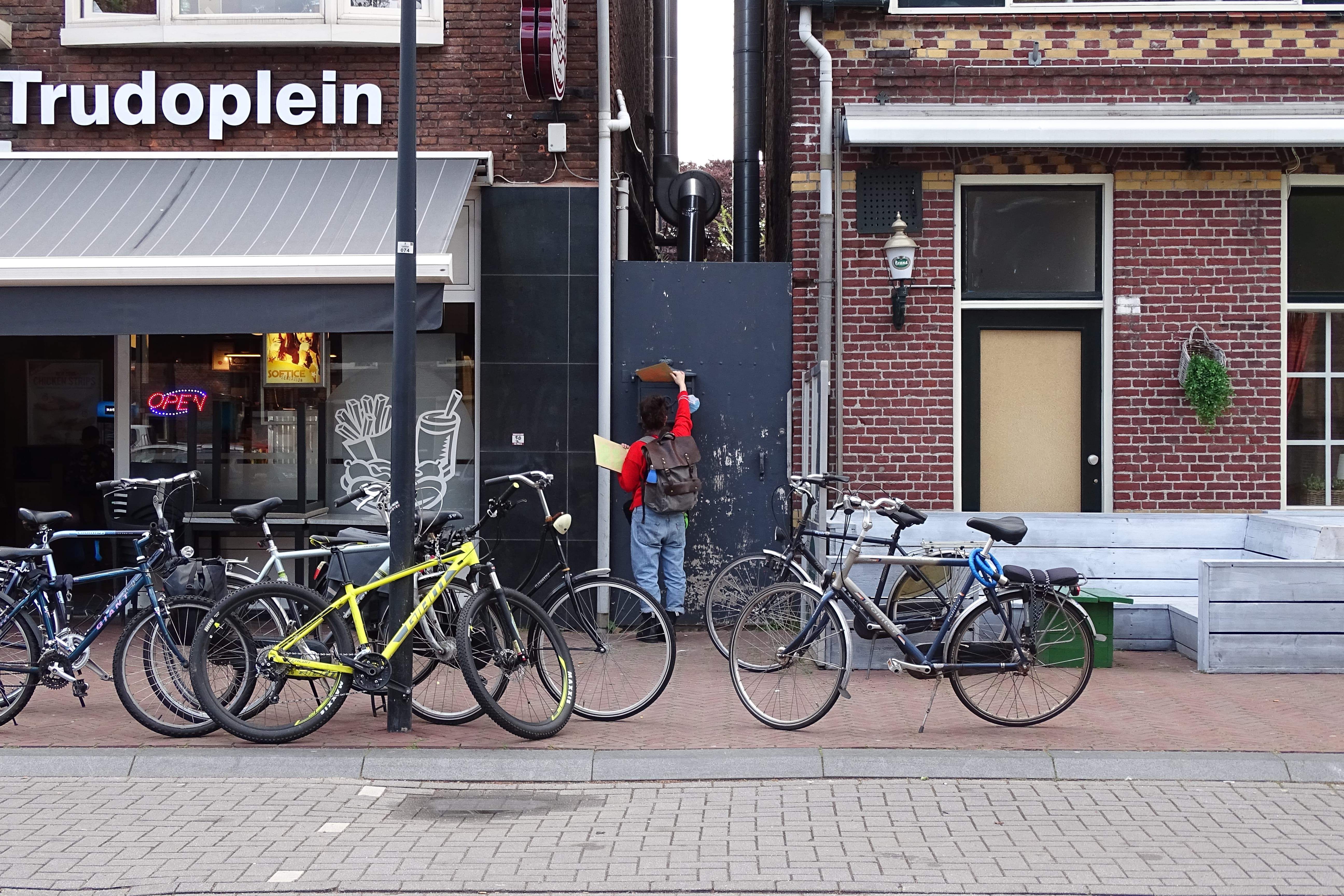 The first visual translation of my research turned out to be an envelope, printed in Risograph. A sort of offline campaign to try to involve my neighbours in the project: I posted 25 envelopes in random houses around the area, and waited for reactions.
REPRESENTATION 2
The envelope contained an invitation to take a walk with me in the neighbourhood, with the purpuse of visiting some urban voids (that I had preaviously mapped) and experiencing the space in an unusual way.


With the people who answered we went on a two-hours exploration, where at every stop we would spend some time in a urban void having a chat:

Where does your home end?

How do you pay attention to the in-between spaces?

When do you think your time is wasted?

Do you have room for a new sense of community?


What does being ecological mean for you?

REPRESENTATION 3
Out of each of conversation I made a video, the five of them ended up being part of the final installation.

REPRESENTATION 4
After aknowledging the partial effectiveness of the envelope as an icebreaker, I decided to create a 'portable void'. Made through a digital collage of the 5 different urban voids of the neighbourhood, works as a teaser to the walk and to the project itself, being a way to put the concept of void in the spotlight and creating room for a discussion where the designer can be the host: what is or could be the role of voids within the urban fabric?

FINAL INSTALLATION
Photo by Peter Cox.